Superior Shipping Products
General Pallets & Crates has a combined history of over 90 years of pallet manufacturing and sales. Specializing in all types of pallets and crating, General Pallets & Crates is dedicated to quality and providing the product and special services that the customer deserves.
History of General Pallets
General Pallets & Crates started over 25 years ago as a manufacturer of wood pallets. The company's original manufacturing facility is in Fort Smith, Arkansas but has grown through acquisitions of other pallet companies over the years…Read More
Correll, Inc. has been in business for over 50 years and we have been working with our partner General Pallets & Crates since 1987. They have been a consistent and reliable supplier of pallets for our line of furniture products. They provide a quality product and consistently deliver on time.
General Pallets & Crates is an exceptionally professional supplier, meticulous in the areas of delivery and service. They are flexible, have good quality, and ensure that our customer's requirements are fulfilled. It is always a pleasure to work with General Pallets & Crates.
PALLETS & CRATING
General Pallets & Crates manufactures a number of products and containers for shipping purposes, with custom designs being our specialty. Using only virgin wood, General Pallets is dedicated to building quality products.

THE PALLET FOUNDATION AND THE NATIONAL WOODEN PALLET & CONTAINER ASSOCIATION ARE PLEASED TO PRESENT AN ENVIRONMENTAL PRODUCT DECLARATION (EPD) FOR U.S. WOODEN PALLETS.
This EPD speaks to the quantitative impact wooden pallets have on the environment beyond their reusable, recyclable and biodegradable qualities, and solidifies them as the clear sustainable choice for supply chains across industries.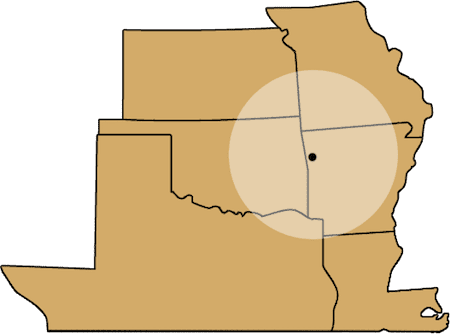 Service Area
Arkansas
Eastern Oklahoma
Northeastern Texas
Southwestern Missouri
Southeastern Kansas